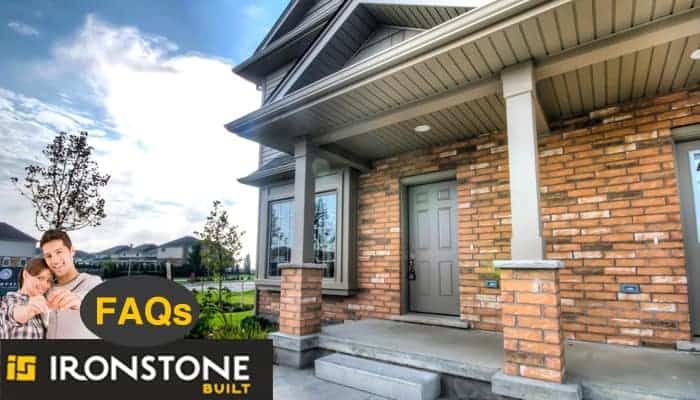 Your home will likely be the biggest investment you make so it's important to do your research and make a well-informed decision. Whether you're a first-time home buyer or a seasoned property owner, you probably have some questions or concerns about buying a brand-new home. Check out our list of the most frequently asked questions at Ironstone and email us at [email protected] with your own queries.
Q: You say your finishes are considered "industry upgrades." What does that mean?
In the building industry, 'extras' like hardwood and tall cabinets are considered upgrades. In other words, it's not calculated into the base price and will end up costing the home-buyer more money. At Ironstone we include the upgrades as a bonus. Hardwood flooring, valance lighting, pot lights and other additions would normally cost more, but Ironstone home owners get them included in the listing price.
Q: When do I get to choose my colours and finishes for my new Ironstone home?
Once your offer has been signed and accepted by the builder, our project coordinator will contact you to schedule a meeting in our showroom. There you will receive one-on-one advice from an interior designer on the available interior finishes.
Q: How long does it take to build an Ironstone home?
It takes about 120 days depending on weather conditions. However depending on when you buy, the project might already be underway lessening your wait time.
Q: Does Ironstone offer a warranty?

Yes, Ironstone is registered with Tarion (formerly the Ontario New Home Warranty Program), a regulatory body­ created by the government to administer the Ontario New Home Warranties Plan Act. Tarion protects new-home buyers by ensuring that builders abide by provincial legislation. That means Ironstone is legally required to provide a warranty that covers defects in work and materials, electrical, plumbing and more. Visit the Tarion website for more information.
Q: Do I get a walk-through and can I have the home inspected?
Yes, Tarion requires that Ironstone provide a pre-delivery inspection (PDI) which takes place when your new home is ready for occupancy. At this time you'll get to see your completed Ironstone home and review its condition before taking possession. The builder will walk you through both the interior and exterior and check for any defects.  If you choose, you may bring an inspector with you.
Q: When will I know the closing date?
The exact closing date is determined when you are in the negotiation phase and put in an offer.
Q: Can I have items moved into my new Ironstone home or store them in the garage before closing?
Due to liability and insurance issues you cannot store personal items in the home until the deed has been transferred and the transaction has closed.  You will then receive your keys from your lawyer and can begin moving into your brand-new Ironstone home.
Q: How long has Ironstone Building Company been in business for?
Ironstone has been building homes in London since its establishment in 2010. Our management team members, David Stimac and Allan Drewlo, are experienced builders who have constructed hundreds of homes through Stoneridge Homes Inc. and Drewlo Homes Inc. respectively.
Check out our latest community, NAPA in Hyde Park Meadows.