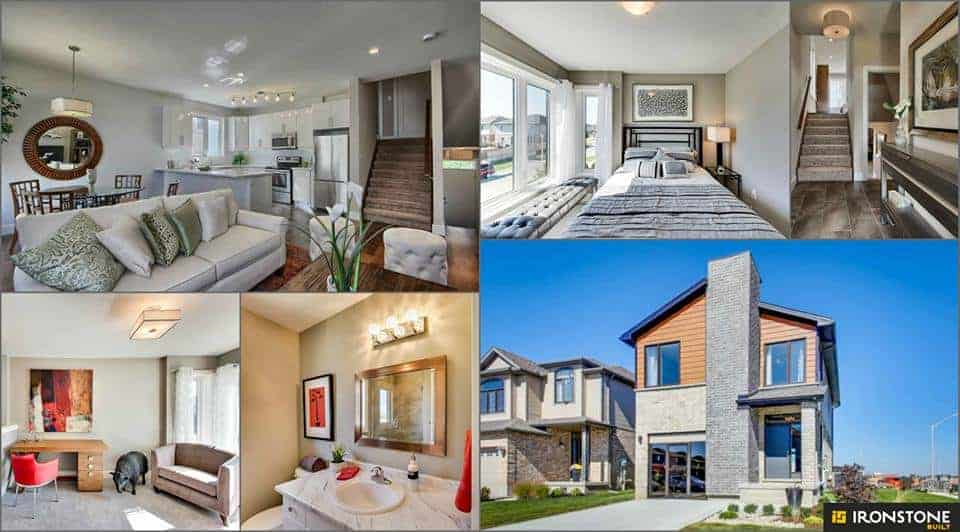 We all know the feeling of getting into a vehicle that still has that new car smell, but did you know you can get the same feeling from buying a brand new home? New homes are for people looking for a turnkey experience. No negotiating, no hassle, no surprises.
1. Choose a floor plan that suits your family
One benefit of buying new is getting to choose from a number of floor plans. Want his and hers walk-in closets? Easy, we have a floor plan for that. It's a much easier experience than buying used and knocking down walls to get the perfect arrangement.
2. Location, location, location!
At Ironstone we pay careful attention to creating new neighbourhoods that reflect the needs of our homeowners. Whether you're looking in North or South London, all of our communities are close to amenities such as shopping, schools, and parks.
"We look for things like schools, shopping, and green space," says Lindsay Clark, Ironstone's Urban Land Planner. "It's all about location!"
3. Save money after moving in
The renovation process isn't only time-consuming, it's also expensive. By moving into one of our homes that includes INDUSTRY UPGRADES in the base price, you're taking advantage of the savings Ironstone offers.
4. Choose a closing date that suits you
Don't want to get stuck with two mortgages? We have a variety of closing dates available so that home buyers can choose one that fits their schedule.
5. Customize your new home before moving in
We make buying a new home easy. After purchasing a home, clients visit the Decor Centre where they pick their own finishes ensuring they get exactly what they want.
6. Upgrades? We include those
No need to pay extra for that hardwood you like or the extra-tall cabinets you've been coveting. Industry upgrades are included in Ironstone's base price – that's Ironclad Pricing.
7. Built to modern standards & protected with a warranty
Don't get stuck in an old, drafty home. Buying new means you're getting all the latest energy efficient technology plus you're protected by TARION (formerly the Ontario New Home Warranty Program), a regulatory body­ created by the government to administer the Ontario New Home Warranties Plan Act. Tarion protects new-home buyers by ensuring that builders abide by provincial legislation. That means Ironstone is legally required to provide a warranty that covers defects in work and materials, electrical, plumbing and more. Visit the TARION website for more information.
8. Save more energy
Between better insulation and energy-efficient appliances, you'll be on your way to saving on your utility bills – something that can be a potentially significant expense in an older home.
9. Your new home is low maintenance
Get into a brand-new home and you won't have to worry about the roof, gutters, and other expensive items that often need to be replaced on resale homes.
10. No one else has ever sat on that toilet!
There's something to be said for having brand-new everything. No scrubbing needed when you move into an Ironstone home!
Check out our newest communities of single family homes.